The FR125-III is a low-power field recorder that is intended for over night and extended duration monitoring projects. It is a lower power alternative to a laptop or ultra mobile personal computer (UMPC) .
The FR125-III includes two high-speed USB 2.0 connectors which allow it to control and operate an AR125 ultrasonic receiver along with a combination of external USB hard-drives, Compact Flash writers, or USB thumb-drives.
A complete monitoring system can be assembled using a minimum of components. A typical overnight recording system consists of an FR125-III Field Recorder along with an AR125 Ultrasonic Receiver and a single USB thumb or flash drive. Multiple night recording can be accommodated either using multiple flash drives or switching to a larger external hard-drive.
An FR125-III system uses less than a third of the power drawn by a typical laptop system. For example, an overnight system (a FR125, a AR125 and a thumb-drive) requires only 6.5 Watts of power.
Product Specification:
download spec sheet (PDF 229K)
Product Highlights
·
Full Spectrum recording
·
Loss-less file compressor
·
Supports most USB storage devices
·
O
peration timer for unattended operation
·
S
leep mode to conserve battery power
·
Automated snapshot recording mode
· Sonobat file compatibility
· Audio output for monitoring
· Audio input for audio or TE recording
· Built in remote file transfer capability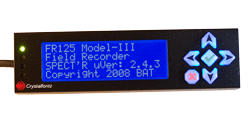 Optional LCD Controller